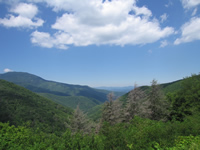 After 25 years of existence, SAMAB has many intangible successes through the building of personal and professional relationships among SAMAB members throughout the Southern Appalachian region that cross political and institutional boundaries.  If you'd like to learn more about the incredible work that we've done throughout the years, download this power point presentation and help us to celebrate 25 years of cooperative accomplishments!
SAMAB Cooperative
The SAMAB Cooperative is made up of 11 federal and 3 state natural resource agencies. The work of SAMAB is done by participating agencies, guided by an interagency Executive Committee.
Additional information:
Cooperative agreement – pdf (17 kb)
The SAMAB Cooperative Reserve – pdf (1.4 mb)
SAMAB Foundation
The SAMAB Foundation, a 501(c)(3) corporation, gives private individuals, firms, academic institutions, and communities an opportunity to participate in SAMAB projects.
Additional information:
By-laws (pdf 16kb)
Charter (pdf 77kb)
All documents are PDF format. You can download the Adobe Acrobat Reader here.